Harnessing energy from the sun and converting it to useable electrical power.
Our Solar Photovoltaic Solutions
Solar PV (photovoltaic) technology converts daylight into electricity for use in buildings or export to the Grid. Our experienced, in-house solar teams design and install Solar PV systems for a wide range of commercial and large domestic customers including farmers, industrial units, offices, schools, leisure centres and multiple housing projects.
We install only proven, high efficiency, branded solar panels and inverters with a performance output that will maximise the 20-year plus return on investment. Once your solar PV system is installed, our dedicated monitoring and maintenance department can help you keep your system's performance on track.
Our associates are approved solar installers and with over 3,000 small and large scale roof and ground mounted solar panel installations to our name, we have the experience to make your solar energy project a success. We also offer finance packages to ensure your project gets the go ahead.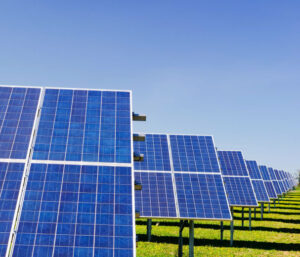 Some of the benefits of Solar PV Systems: